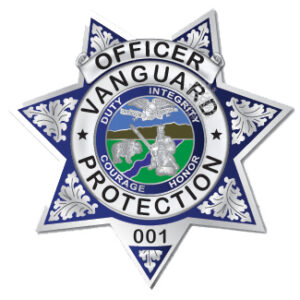 VANGUARD PROTECTION
PATROL OFFICER POSITION ANNOUNCEMENT
Rank:    Patrol Officer (P-1)                                Job Type: Full Time
Salary: $48,048* Annually
INTRODUCTION
Vanguard Protection is on track to become the finest provider of premier safety and security in the state of California. Our mission is to provide protective services second-to-none to clients ranging from individual residences and communities to the most high-profile net worth companies and federal agencies. With over 20 years of experience in public law enforcement, military service, and private law enforcement, Vanguard Protections' command staff is committed to upholding the high standards and leadership that today's discerning clients demand. Vanguard employs a leadership strategy that values experience, education, skill, and drive, with an emphasis of supporting each of its employees through personal and professional development and growth. Opportunities for professional growth include leadership roles in patrol such as field supervisors and Watch Commanders, as well as specialized roles and leadership within specialized divisions such as investigations, traffic, the Critical Response Team, and administrative management roles.
POSITION DETAILS
Vanguard Protection is seeking an exceptional individual to serve as a Patrol Officer (Trainee/Entry-Level) in our company. This position will offer a great deal of opportunity. The ideal candidate is one who has equal respect for the profession and their professional growth. Competitive candidates will have a hunger to continually search for better ways of doing things and be loyal to the organization, our clients, and our communities. The selected individual will be a smart, creative, and intuitive thinker and decision maker.
Vanguard Protection operates seven days a week, 24-hours a day, and has locations throughout Los Angeles County. Appointees must be willing to:
work any shift.
work overtime and consecutive shifts.
work any day of the year, including holidays.
work with people of any race or ethnic group.
work assignments with co-workers of the opposite sex.
work patrol either in a vehicle or on foot.
work in any location which we service.
injure and perhaps kill another person in defense of their life or the life of others.
have split or varied days off.
work assignments where there is risk of being injured in the performance of their duties.
deal with people who are hostile, irrational, emotionally distraught, or mentally ill.
deal with volatile or life threatening situations.
make appropriate split-second decisions in emergent, highly stressful situations.
work independently and as a partner or team member with a variety of individuals.
The selected candidate will be expected to learn policies, procedures, and practices of the company, as well as the applicable laws of the State of California and engage in the fast-paced, energetic and exciting culture of Vanguard Protection.
ESSENTIAL JOB DUTIES
Make a forcible arrest, if necessary
Search for and handle evidence/contraband
Use a firearm, if necessary
Drive a company vehicle safely
Enforces property regulations and State laws and local ordinances.
Subdues resisting suspects utilizing necessary force, including firearms, to maintain law and order and ensure personal and other's safety.
Detains, arrests, and transports suspects
Maintains a log and writes various reports
Responds to emergency calls for service to provide assistance and maintain law & order
Investigates victims, witnesses, suspects, and informants
Takes notes, and writes complaint and investigative reports
Search for, collect, record, and preserves evidence (including weapons)
Appear in court to testify in legal proceedings
REQUIREMENTS
Any candidate will be required to possess the education and experience that would provide the required knowledge, skills, and abilities that would qualify an applicant for employment as a Patrol Officer.
BASIC QUALIFICATIONS
Age:
At least 21 years old at time of hire.
Citizenship:
U.S. citizen -OR- permanent resident alien who is eligible for, and has applied for citizenship.
Education:
Graduation from a U.S. high school, or evidence of equivalent U.S. high school proficiency
AA/AS degree from a regionally accredited university or college, or from a nationally accredited university or college which offers transferable credits
License:
A valid California class "C" or above driver license is required to perform job-related functions. Out-of-state candidates must have a valid license from the state in which they reside at the time of filing and will be required to obtain a California class "C" prior to hire.
Successful candidates for this position will be required to submit a copy of their valid California driver license, or valid out-of-state driver license during the background investigation. License must not be suspended, restricted, or revoked.
A CANDIDATE'S DRIVING RECORD THAT SHOWS ANY MOVING VIOLATIONS WITHIN THE LAST THREE (3) YEARS WILL NOT BE APPOINTED.
Physical Requirements:
Candidates must be in good general physical fitness (height and weight proportionate) and free from any medical conditions that would interfere with the satisfactory performance of the position of Patrol Officer. This position Involves frequent heavy lifting over 25 pounds, often combined with bending, twisting, or working on irregular surfaces; and occasionally requires extraordinary physical activity.
Vision:
(1) Acuity - At least 20/70 in each eye without correction, correctable to 20/20 in each eye. Successful soft contact lens wearers are not required to meet the uncorrected standard as long as their corrected vision is 20/20 in each eye.
(2) Color perception - Anything other than minor hue impairment is disqualifying.
PREFERRED QUALIFICATIONS
All basic qualifications listed above, and:
BA/BS degree in a related field from a regionally accredited university or college, or from a nationally accredited university or college which offers transferable credits, or:
Prior experience in patrol management, or service in a public safety environment, or:
Possess a valid (P.O.S.T.) certificate form an accredited California State Police Academy or:
Honorable military discharge with a valid DD-214 showing a steady increase of responsibility and growth as well as applicable experience
PROCESS
The overall process is designed to identify and select the most qualified person for the position available. There are 12 overall steps in the process which are outlined below:
Application
Initial Interview
Written Exam
Physical Agility Test (PAT)
Personal History Statement (PHS)
Personal History Questionnaire (PHQ)
Background Investigation
Polygraph Examination or Voice Stress Analysis Test
Medical Clearance
Final Interview
Candidate Selection
Training
Application:
The application phase is meant to identify the qualifications and experience for each individual. Each applicant must complete, in full, the Vanguard Protection employee application with all fields completed, whether they apply or not. Once the entire application is reviewed, the applicant will then be scheduled for their initial interview.
Initial Interview:
Each applicant is required to attend an initial interview which will allow management to learn about their career goals, work history, education history, life experiences, and qualifications among other things. This is also an opportunity for the applicant to ask questions in order to learn more about the position and the company.
Written Exam:
Once an applicant has passed initial review by an interview, they will be asked to complete their written exam. This test is a series of 50 multiple choice questions designed to determine an applicant's basic understanding of math, English, and reasoning skills.
Physical Agility Test:
After the applicant has passed their written exam, the applicant will take their Physical Agility Test (PAT). The PAT is meant to measure an applicant's ability to meet the physical demands of the job. The PAT consists of the following activities:
Timed maximum push ups in 2 minutes
Timed maximum sit ups in 2 minutes
Timed 1 ½ mile run in 12 minutes 30 seconds or less
Personal History Statement (PHS):
The next step after successfully passing the physical agility test is completing the PHS. This packet compiles all aspects of an applicant's life, including elements such as residence history, educational background, personal and professional references, and work history to name a few.
Personal History Questionnaire (PHQ):
After the applicant has completed their PHS, they then drop off their background packet and complete a PHQ. This questionnaire is very in-depth about past events in their life, and is designed to identify trends and behaviors about the applicant.
Background Investigation:
The 7th step in the selection process is the background investigation, where a thorough verification is done concerning various aspects of their lives.  This step is the most time consuming phase and applicants are encouraged to be patient while proper checks are completed. Our background investigator will check on numerous areas of the applicant's life including, but not limited to, education, work history, personal and professional references, driving record, credit profile, and various other areas.
Polygraph Examination or Voice Stress Analysis (VSA):
Once the applicant has moved past the background phase, they will be scheduled to take a polygraph exam with our examiner (we also use a Voice Stress Analysis test). The applicant will answer various questions to determine if the information provided to Vanguard Protection has been truthful. This exam is pass/fail.
Medical Clearance:
The 9th step in the selection process is a medical clearance, where an applicant undergoes a standard physical exam with their primary physician to certify that they are healthy enough to perform the job duties.
Final Interview:
Once an applicant has been medically cleared, he/she will be invited to complete a final interview by the Office of the Chief. This is an informal interview to ensure that the applicant has no new or outstanding questions about the position.
Candidate Selection:
The 11th phase of the application process is the selection of the most qualified applicant. Depending on the number of applicants who have applied and successfully gone through the hiring process, along with the number of current job openings, a determination will be made who will receive a conditional offer of employment.
Training:
The last step in the hiring process occurs after the applicant has accepted the conditional offer of employment. Once this occurs, they will no longer be referred to as an 'applicant', but considered a 'candidate'. He/she will be placed in the training program which consists of three parts:
A Vanguard Protection training program; a classroom and practical exercise course aimed at teaching pertinent company policy and procedure, California state law, and basic patrol officer tactics.
A Field Training Program under the instruction and evaluation of a Field Training Officer (FTO). A candidate will be required to successfully meet the standards outlined in the Patrol Tactics manual with approval of the FTO, and pass 5 officer evaluation exams.
Once the candidate has completed the Field Training Program, he/she will begin active duty as a solo Patrol Officer for a period of five months for further evaluation of Officer proficiency. Once a total of six months has elapsed, the candidate will become a fully appointed Patrol Officer, and is no longer referred to as a trainee.
SPECIAL INFORMATION:
ZERO TOLERANCE POLICY IF HIRED
Vanguard Protection has a "zero tolerance" policy for its employees for the following:
use of narcotics, controlled substances, and/or prescription drugs without a prescription.
use of marijuana with or without a prescription.
use of tobacco products (smoked or smokeless) or vaping products.
Any employee found in violation of this policy will be subject to discharge.
TO FORMALLY BEGIN THE SELECTION PROCESS AND OBTAIN AN APPLICATION, SEND AN E-MAIL REQUEST TO: JOIN@VANGUARDPROTECTIONGROUP.COM